SEO Services from Kent Small Business Marketing.
Search Engine Optimisation or SEO as it is known is the process of optimising a web presence to achieve the highest possible position in the SERP's (Search Engine Results Pages) the pages which are returned when a user searches for a specific keyword term using one of the many search engines out there.  The most notable of which is Google.
By optimising a web site or map location it is possible to appear on the first page of the results returned. Apart from the sponsored (paid) links at the top of the page which only claim about 1-3% of the clicks-thru's this is the optimum place to advertise your business since all of the traffic that your website will receive is all targeted traffic.  By targeted traffic I mean that the end user found you because they want something from you.  They are either looking for help with something or they are a potential customer.
By using search engine optimisation techniques you stand the best chance of finding unlimited customers.
Below this chart shows the percentage of clicks based on where in the results you rank.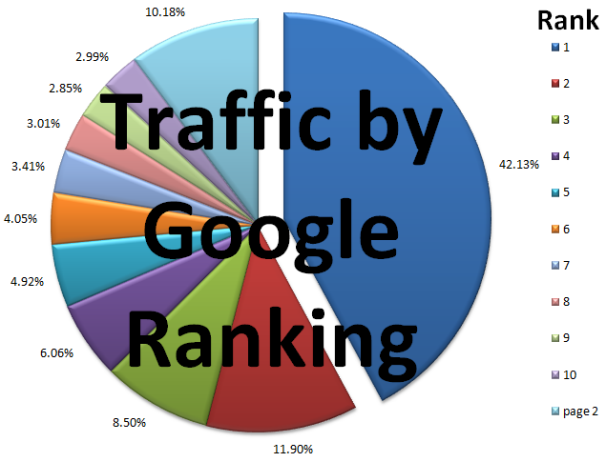 Overall Percent of Clicks

Relative Click Volume

42.13%, 2,075,765 clicks
11.90%, 586,100 clicks
8.50%, 418,643 clicks
6.06%, 298,532 clicks
4.92%, 242,169 clicks
4.05%, 199,541 clicks
3.41%, 168,080 clicks
3.01%, 148,489 clicks
2.85%, 140,356 clicks
2.99%, 147,551 clicks

3.5x less
4.9x less
6.9x less
8.5x less
10.4x less
12.3x less
14.0x less
14.8x less
14.1x less

1st page totals: 89.82%, 4,425,226 clicks
2nd page totals: 10.18%, 501,397 clicks
Note the First Place Position with 2.2 Million competing pages for the keyword "Kent Business Marketing"  –  Click the image above to perform a real-time search.  (Some results may vary depending on your own local browser settings)
For help with your Search Engine Optimisation  needs contact Kent Small Business Marketing.